Help Us
Whale Rescue is a volunteer organisation, run by volunteers. There are lots of different ways that you can help us to continue rescuing whales and dolphins.
Whale Rescue Mission Statement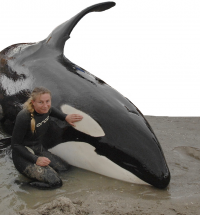 Dr Ingrid Visser & Nobby the orca Our specialised crew will respond to whales and dolphins in need of help, as quickly as possible and in a professional manner, whilst consulting with stakeholders.
Whale Rescue Vision
To provide logistical and practical expertise and equipment for the rescue of whales and dolphins. Whilst consulting with stakeholders, Whale Rescue will endeavour to be effective communicators and facilitators, maintaining and building relationships and networks. At the same time as striving to be the leading and most successful cetacean rescue crew in New Zealand, Whale Rescue will be consistently acting as guardians for cetaceans.