Donate
---
Whale Rescue, like all non-profit organizations requires funding to help fulfill its mission. We recognize that in this economic climate it is not always easy to donate to causes we all want to support. Therefore we have created our 'virtual gifts' section. For as little as $2 you can help save a whale. These 'micro-donations', as they are known, are the key to fundraising today – as many small donations make it possible for us all to support those projects dear to our hearts.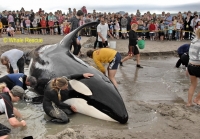 Nobby the Orca during his rescue at Papamoa Beach. The media estimated that more than 2,000 people came to cheer on Nobby during his stranding. Think of it this way – if everyone at the rescue of Nobby the orca (estimated by the media to be over 2,000 people) had donated $2 we would have enough funds to purchase 2,000 buckets, or two lifting mats. We could purchase 1,500 sacks (to fill with sand to support whales on the beach and help prevent them from drowning when the tide returns). All this with just $2.
"97% of charitable donations go to humans, with the remaining 3% split half and half between pets and the rest of nature" *
* Turner, B. (2010). Pure nonsense. New Zealand Listener, 8 May, 30-31.
We encourage Fund Raisers – perhaps you could do a Walk for Whales, or a Swim to Save a Whale. For these Fund Raisers you would ask friends and family to sponsor you to walk or swim a distance (say, 50 cents for each lap of the pool). You can download our generic pledge form for your sponsored event.
Perhaps you would like to run a car wash during a sporting event, or if you are a good baker you could organise a Cookie and Cake stall.
How about organising a 'mufti-day' at school ? – and pick a theme to help everyone get into the spirit of things (perhaps "under the ocean"), or suggest everyone give an item for sale and you coordinate with your teacher to sell the items at the end of the week at a special fundraising stall at lunch time.