Help Us
Whale Rescue is a volunteer organisation, run by volunteers. There are lots of different ways that you can help us to continue rescuing whales and dolphins.
Wendy Turner
---
Wendy has attended multiple mass and individual strandings and is trained in stranding rescue techniques, including the use of refloatation Rescue Pontoons and other whale rescue equipment.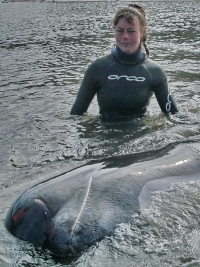 Wendy is a trained, active senior crew member of NZ Coastguard and holds a Boatmaster certificate, along with First Aid and Search & Rescue certificates. She is qualified as a PADI Dive Master, certified and experienced as a free-diver, and works as a legal executive. Wendy has volunteered over several years as a research assistant for The Orca Research Trust with Dr. Visser, and has extensive experience throughout the South Pacific photographing various whale and shark species, both topside and underwater. Wendy is affiliated with Ngapuhi and if the Te Hikutu Hapu and can show her ancestry as Hokianga-nui-o-Kupe.