Help Us
Whale Rescue is a volunteer organisation, run by volunteers. There are lots of different ways that you can help us to continue rescuing whales and dolphins.
Jo (Floppy) Halliday – Whale Rescue Co-Founder
---
Floppy has attended multiple mass and individual strandings. She is experienced in the use of refloatation Rescue Pontoons and other rescue equipment. Floppy has served on the Board of another stranding rescue group where she was also a trainer and area coordinator.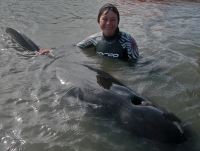 Over the last 20 years or so, Floppy has introduced countless people to wild dolphins and whales in the Bay of Islands as a guide aboard a commercial dolphin-swim vessel. She has contributed much data to various whale and dolphin research projects in that time, and has had numerous interactions, both in and out of the water, with an array of whale and dolphin species. Floppy is a skilled crew member, having worked on large commercial tourism vessels and crewed on recreational sailing vessels over the past 20 years. Floppy is First Aid trained.