Help Us
Whale Rescue is a volunteer organisation, run by volunteers. There are lots of different ways that you can help us to continue rescuing whales and dolphins.
Jochen (John) Zaeschmar
---
John has attended several mass strandings and is trained in stranding rescue techniques, including the use of refloatation Rescue Pontoons and other whale rescue equipment.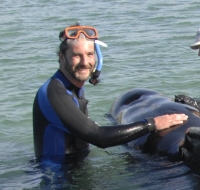 Originally from Germany, John holds a Bachelor of Business degree and is now enrolled at Massey University as an MSc student, currently researching and writing a thesis on false killer whales and pelagic bottlenose dolphins. He has been collecting data and conducting research on multiple species over a 13-year period, and has co-authored a manuscript in a peer-reviewed journal. John has a commercial skipper's ticket and owns and operates his own charter sailing (22m ketch) business in the Bay of Islands. He holds a current First Aid certificate and is an ex paramedic. He is also a skilled diver and free-diver, is fluent in Spanish as well as his native German and English, and has previously worked as a whale-swim guide.